It is important to find the right reasons within yourself if you want to be a freelancer. This way, you will be clear about the amount of effort you will need, to put into finding freelance jobs in the UAE.
In this article, we are going to talk about the necessary steps to become a freelancer. In addition to the considerations, you need to take into account if you are a full-time employee, and wish to venture into self-employment. Let us now observe:
What do you need to get started?
How to find the motivation to work as a freelancer?
How to manage customer needs and requirements?
In which fields of freelance jobs in the UAE can you work?
How to find a niche?
How can we help you find freelance jobs in the UAE?
1. What do you need to get started?
You have to make sure you have the necessary equipment for your work, and therefore, you must define several things:
Work team or if you will work alone
Operations site from where you will work
Career plan that will guide your professional goals.
Keep in mind that it is important to be following tax and legal aspects. Remember to do your tax-related paperwork to avoid problems in the future.
If you are up to date with taxes and you can invoice for your services, you will get big clients as they may ask for fee receipts for the payment of services. For more information on this matter, at Connect Freelance, we will be happy to answer any questions you may have.
1.1 Your brand is important
In the same way that products have an image that characterizes them and allows us to remember them, you must also have your brand. This way you will be remembered by your clients and associated with the characteristics of your service.
Just as a financial institution wants to be remembered as a serious and stable company, and a clothing brand wants to be associated with youthful and cheerful aspects, your brand must be remembered for something.
Thus, you must define your name. Decide if your name will be your brand or if you want to use a business name.
Establish your logo and visual association elements. Pay attention to the images you will use to promote yourself. Place your logo, and try to make customers associate you with your colors and fonts. This will ensure that your customers receive the right image of what you want to convey.
1.2 Strategies to get customers
Direct calling. You can look for people within your niche to whom you offer your services. Do not be afraid to contact them directly and give them your proposal, since clients can be where you least expect them.
Freelance web platforms. On some platforms, you can publish your projects and services. On other platforms, clients request the work they need. If the client requests the work, you propose and the client decides whether to accept or not.
Client recommendations. When you get recommendations from your clients, your work speaks for itself. That is to say, every satisfied client, by talking about you, attracts more clients.
Constantly update your social networks. You need to focus on professional networks. Share your recent projects whenever you can. Also, participate in groups where there are potential clients and you can offer them your services.
2. How to find the motivation to work as a freelancer?
The fact that freelancing provides great flexibility does not mean that you should take it lightly. That is, you will be entering a world where the efforts are on an individual basis, and you will have to apply yourself much more.
You must consider that the benefits will be yours alone, but also the risks. Being able to make the right decisions is fundamental, as well as assuming the responsibility that these decisions imply.
You can contact us to find out how to find freelance work. Our team would like to hear from you and exchange information on our market hub.
2.1 What skills do you need to work as a freelancer in the UAE?
If you can identify your skills, you will be able to match them with a job that suits your personality. In other words, find out first what you are good at and then get better at it.
2.2 How to find freelance jobs in the UAE?
With the growth of freelance job applications, the opportunities to find freelance jobs in the UAE are also growing.
It is always best to start your network by drawing from previous jobs and contacts. Therefore, you will establish the foundation of potential clients as your career develops.
It is good not to set limitations on who will belong to your network. Include everyone you can, from former colleagues to family and friends.
Industry-related personnel
Use your connections with industry professionals to strengthen your networks. Likewise, joining trade and industry associations will increase your chances of expanding your contacts.
You can get the best opportunities by making good use of social networks such as Facebook, LinkedIn, and Twitter. This is due to the large amount of employment you can find using them.
Nowadays it is very common for companies to use social networks to find their best employees. Also, if social networks are the place where hiring professionals gather, it means that is where you should be when you are starting your business.
2.3 Your website
You should have a website that you can be proud of and exhibit. In other words, spend time developing your site, and make it as attractive and professional as possible.
On your website, you should show your skills and also your achievements. In the same way, your website has to compile your services, thus, that clients can get to know you.
Write your professional profile. In it, you should describe your experience and skills projected in a way that can be useful to your clients.
You can write a short version of your biography and a much longer and more detailed one on your social networks.
2.4 What do you need on your website?
You will need a profile that talks about who you are your professional experience, and your professional motivations.
A page that shows your projects. Therefore, you will highlight what you have done with your clients.
A testimonials section. In this section, clients will post their impressions and compliments about the work you have done. Do not be afraid to ask for testimonials about your work. You should also consider that collecting testimonials is proof that you are good at what you do.
A contact page. It will allow your customers to communicate with you. Remember to regularly update the content of your page, to give the impression that you are always active and in line with the business.
Beware of scams. It is critical to be attentive to details. Any job that offers high income for little effort is suspicious. Also, you should not trust sites that ask you for personal information, such as your Social Security number or bank information.
3. How to manage customer needs and requirements?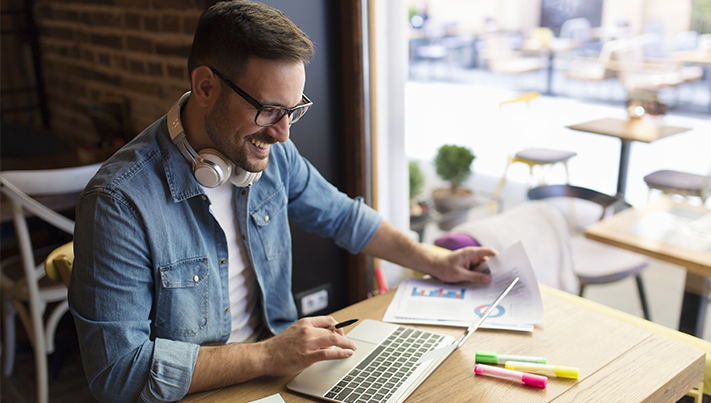 Sometimes potential clients request samples of your work to see the quality of your content. In our case as freelancers that is fine, because it is a way to get our work seen and engage the client.
The problem occurs when the client starts requesting an unreasonable amount of samples. In this sense, you must realize that you may be getting scammed. Analyze if it is the case that the client just wants to get free work from you.
When a client wants original work, be sure to define how far the amount of work requested will go. Therefore, you will be able to have the limits established and if possible, ask for all this information in writing.
3.1 Contracts
Keep in mind that freelance workers can sometimes be taken advantage of by being asked to perform work outside of their contracts.
This is a double-edged sword because you may not get paid for your work and you would have no legal arguments to defend yourself.
You should make sure that any additional requirements requested are included in your employment contract to avoid problems.
If you have unpaid invoices, you can send payment reminders. This is an elegant way to remind the customer to pay their outstanding debts.
3.2 Too little work or too much work?
Often the workload in the freelance world is seasonal. That is to say, you may have periods of high workload and others where the workload decreases.
You have to know how to balance these periods properly. Therefore, when you have moments of low workload, you can have money saved.
The important thing is to know how to manage yourself and if you have very little workload you can redirect your energies to other aspects such as strengthening your network or updating your website.
4. In which fields of freelance jobs in the UAE can you work?
There are several activities and categories in which you could work as a freelancer.
Computer and IT (Information technology) jobs
These jobs can work for freelancers, as many companies need people to work on a project basis.
IT analysts and system administrators, among others, have the benefit of being jobs that can easily be performed remotely.
Freelance accounting and finance
Accounting and finance-related jobs are usually seasonal or for set periods of the year. This means that there will be times during the year that will have high workloads, and they will need to hire your services.
You can develop into a tax support, financial analyst, and accounts payable specialist.
Recruitment and human resources
This job is ideal and highly sought-after by companies that need to hire large numbers of personnel. Therefore, companies can employ a recruiter to independently assist them with the workload.
In this sense, jobs such as recruitment coordinator, human resources administrator, and employment consultant are the available jobs that you can develop.
Editing, proofreading, and copywriting
Companies hire qualified freelance content writers, proofreaders, and editors to complete these tasks.
You can engage in writing or editing articles for companies, perhaps technical, or product descriptions, or perhaps general interest articles.
Freelance in the area of administration
Working as an administrator can be very common in the freelance field.  Many companies request professionals in this field, therefore, jobs such as administrative assistant or coordinator are jobs that are in high demand and availability.
5. How to find a niche?
A niche is the segment or area of specialization that has been extracted from a larger segment and has delimited characteristics.
Finding your specialization will make you stand out from the competition, and will also allow you to be recognized for being a reference in that area.
You can find your niche in the areas that interest you the most and where you have the most knowledge.
When you become a specialist in your niche, you generate trust in your clients and they will be willing to pay to feel in expert hands.
If you specialize as a web developer, content writer, designer, or photographer, among other options, you are guaranteed success.
6. How can we help you find freelance jobs in the UAE?
Opening the door to new freelance jobs in the UAE opportunities will allow you to update your skills; know your value in the market, and discover new employment modalities.
If you want to become a professional freelancer and want more information about how to find jobs in the UAE; you can count on our specialized staff. In addition to assisting you, we offer guidance and related knowledge.

Would you like to learn about the tools and knowledge we offer you? Please, contact us by calling at +971 43316688. In addition, we have representatives who will answer all your inquiries if you write us an email at contact@connectfreelance.ae.
Send your application for hundreds of job vacancies by creating an account on thetalentpoint.com. Any CVs you send to contact@thetalentpoint.com will not be stored. Do not miss this opportunity!
Please follow and like us: