Moving to Dubai from the UK is a change you can make to reap several benefits. In this sense, in Dubai, you will find a modern, relaxing environment with great job opportunities. A good idea is to do it through a freelance visa, as it offers great benefits for independent workers.
In this article, you will learn everything you need to know to immigrate to Dubai and get a freelance visa. Likewise, you will know the benefits that this visa brings and what you need to obtain it. Let us see:
How to move to Dubai
Life in Dubai
Dubai cost of living vs UK
Visa requirements when moving to Dubai from the UK
Documents required for a visa to emigrate to Dubai
Get your visa with Connect Freelance

1. How to move to Dubai
Moving to Dubai from the UK can be a decision that benefits you in the long run. However, it can mean a somewhat difficult change due to cultural differences and other aspects. However, you should not worry as the English are the largest Western community in Dubai.
One of the things you need to consider is the climate difference that exists between the UK and the Middle East. However, the benefits of emigrating to Dubai outweigh any minor drawbacks. We start by showing you how to move to one of the trendiest places in the world.
1.1 How to move to Dubai
To move to Dubai from the UK you need to ponder a few things to make your relocation successful. Therefore, we offer you the steps you should follow to permanently reside in the UAE:
1.1.1 Prepare the necessary documentation
Before starting the moving process, you should make sure you know and have all your documentation in order. The documents you will need are the following:
Passport valid for 6 months from entry to Dubai.
Marriage license.
Bank statements.
Certified diplomas.
Updated passport photo.
Proof of a monthly salary of AED 10,000 (if moving with family).
sponsorship test.
1.1.2 Make sure you can cover your expenses in Dubai
A very important point is to consider the cost of living in Dubai vs the UK before thinking of moving there. In many cases, the cost of living can be lower than in cities like London or New York.
1.1.3 Open a bank account
Opening a bank account in Dubai is very easy to do, as there are more than 45 bank agencies. In addition, there are various bank branches of agencies in Germany, China, and the United Kingdom. However, many agencies require you to be a resident to open a bank account.
However, some allow non-residents to open savings accounts.
1.1.4 Get a job
The next step is to find one of the relocation jobs in Dubai to stay in the Emirate. In addition, with this, you will get financial rewards to maintain your lifestyle in Dubai. However, we recommend that you find a job before you enter the country through an employment agency.
1.1.5 Find a home
If you are entering the country through sponsorship, your employer may provide you with housing. However, if you have the means, you can choose to rent or buy a property, both of which can come furnished. If you choose to rent, be prepared to pay between 6 months and 1 year of rent deposit.
1.1.6 Get health insurance in Dubai
You need to have health insurance that is covered in Dubai to get free or low-cost hospital services. If you are already working for a company, it will provide you with a health service. However, you can find various insurers if you do not have insurance.
1.1.7 Learn Arabic
One of the things you need to consider before moving to Dubai from the UK is learning Arabic. However, this requirement is not mandatory, because, although it is the official language, most people speak English. In this sense, you can find online courses or face-to-face classes once you settle in Dubai.
1.1.8 Know the emergency contacts
Here are some emergency numbers that work in Dubai:
To call an ambulance or police the number is 999.
If you need the fire department, you must dial 997.
For problems with your visa, call 8005111.
2. Life in Dubai
When you are working in Dubai, You will notice that the lifestyle is a bit different from the UK. However, you will be able to get used to it in no time. Therefore, we show you some things you should know about this beautiful Emirate:
2.1 How big is Dubai?
Dubai covers a total of about 1,500 square miles and has a population of approximately 3,500,000. It is one of the 7 Emirates that make up the UAE and is one of the most important together with Abu Dhabi, the capital. The city of Dubai is the largest and the capital of the emirate of the same name. Also, the time difference between UK and Dubai is 4 hours.
2.2 Business days
Once you get any of the Dubai relocation jobs you will realize that the business days differ. Although it will still have 2 days off, unlike the UK, these will be Fridays and Saturdays. Therefore, you will have to get used to working on Sundays and resting on Fridays.
2.4 Climate
Moving to Dubai from the UK means getting used to hot weather that can reach 110 degrees Fahrenheit. Therefore, you will have to forget your winter clothes because you will not need them. The lowest temperature commonly occurs in January, when it drops to as low as 60 degrees Fahrenheit.
2.5 Work environment
Relocation to Dubai jobs does not represent a big change in the work aspect, as you will find a professional environment. In addition, you will find very educated and competent people, so the environment will be quite satisfactory. Also, you may realize that you have the possibility of obtaining a better salary and many more benefits.
2.6 Security
One of the things that you will realize when you are working in Dubai is that the security is quite good. Dubai is among the safest cities in the MENA region, so you do not have to worry about your safety. However, you need to know the laws, as some things that are allowed in the UK may not be allowed in Dubai.
3. Dubai cost of living vs UK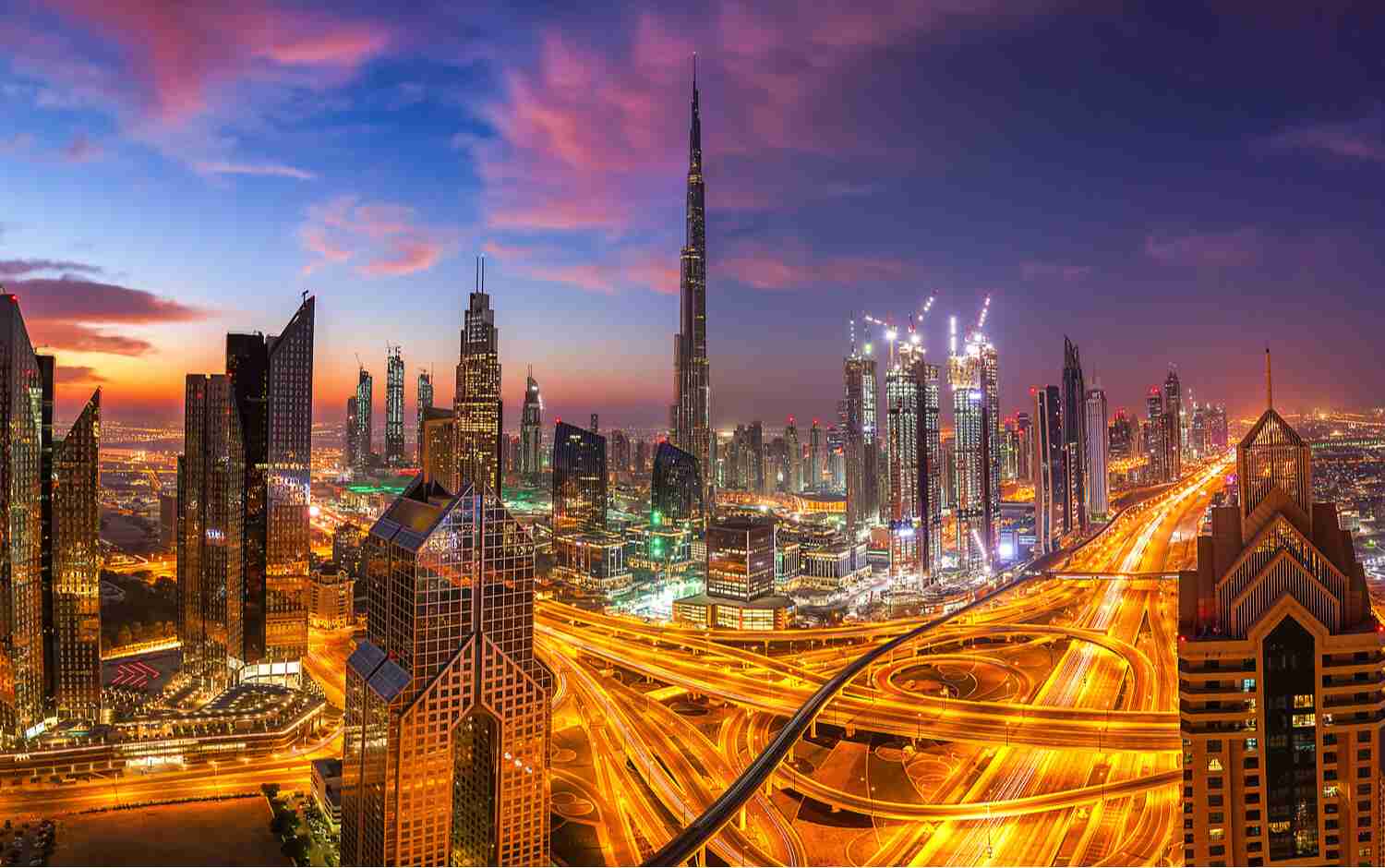 When moving to Dubai from the UK you may find that many basic expenses are lower than in many UK cities. However, in other cases, the cost is higher in Dubai than in London. Here are some average prices for you to consider:
Before you come across the following points, Let me just spell the currency exchange value 1 British Sterling is AED 4.33
On average, a property in London is worth £480,000, while in Dubai £300,000 (ADE 140000000)
A bus ticket can cost from AED 1 to AED 4.
Traveling by metro can cost you AED 2 but you can purchase a card starting at AED 25 for multiple trips.
A taxi ride can cost you from AED 12 and up.
A meal in a restaurant can cost you AED 45 and AED 62.
On the other hand, to cover all the basic expenses in an apartment you will need between AED 700 and ADE 1000.
Internet service (ranging from 60 Mbps and up) will cost you around AED 400
Renting an apartment can range from a monthly rent of between AED 3,800 and AED 1,370,000.
The average salary is between AED 1,370,000 and AED 1,650,000.
In this way, you will be able to get an idea of the expenses that you will have while you are working in Dubai.
4. Visa requirements when moving to Dubai from the UK
To immigrate to Dubai it is necessary that you have an appropriate visa and thus ensure a stay according to your interests. Although there are various visas with which you can enter (such as tourist or dependent visas), a freelancer visa gives you more benefits.
Anyone who wants to be self-employed in Dubai can apply for this type of visa. However, this person should have a bachelor's degree or diploma in any eligible specialty. Therefore, you must have a qualifying profession in the allowed ones, and a previous minimum income of AED 306000 in 2 years.
5. What is a Freelance visa and how this could be a great option for those who are thinking of moving to Dubai from UK?
A Freelancers visa allows you to move to Dubai as an independent worker, and also as a resident without the need for a sponsor in the UAE. Therefore, it consists of a work permit for anyone who works as a self-employed person. This visa can be obtained after obtaining an independent work permit.
Once you get approval for this Visa, It gives you ample time to stay and figure out your action plan for the near future.
Furthermore, this visa will allow you to continue working in Dubai for between 1 and 5 years. Additionally, you can be the sponsor of your family, as this permit is available to citizens, residents, and non-residents.
5.1 Benefits
Moving to Dubai from the UK on a freelance visa allows you to have various benefits. Some of them are the following:
As freelancers you have the advantage of being your own boss, so you decide your pace of work and the projects you want to work on.
As an independent worker, you do not have to abide by the policies of an office and, therefore, the disadvantages of this.
You can take advantage of each of your skills and can be in constant growth.
On the other hand, you will be able to work with several clients, so you will not be tied to just one. This also allows you to advance in your career.
You will not have a strict work schedule; you will only have to complete the projects in the agreed time.
Another significant advantage is that you can work anywhere you want, with only the equipment you need.
Also, you can have a better balance between your work life and your family life, thanks to the flexibility of your schedule.
As a freelancer you can also choose your clients, so you choose who you work with.
Through growth in your career as a freelancer, you will be able to earn more income
Therefore, moving to Dubai from the UK can benefit you if you do it through a freelancer visa.
6. Documents required for a visa to emigrate to Dubai
Obtaining a freelancer visa will help you obtain a residence permit to continue working in Dubai. Eligible individuals can secure unique job opportunities through the GoFreelance program. To comply with the process you must have the necessary documents to obtain your freelance visa.
The documents that must be submitted are the following:
Resume.
A recent photograph.
Bank reference letter.
Copy of passport and visa.
A NOC from your sponsors.
Proof of academic qualifications.
Certified by the Ministry of Foreign Affairs.
Portfolio or sample of work done.
The process is very simple since you only have to fill out an application and with our help the online process. The next thing will be to present your documentation in the authorized places and make the corresponding payment. The process takes between 10 and 15 days, after which you will receive your permit in the mail.
7. Get your visa with Connect Freelance
With a freelance visa, you can move to Dubai from the UK and reap the benefits of freelancing. Connect Freelance is the only legal entity authorized to provide this type of visa in Dubai. In addition, We also take care of your documentation dealing with the Government department. Through our assistance, you can obtain multiple forms of invoicing, free meeting rooms for 9 hours, and other benefits.

We have everything you need to know about moving to Dubai from the UK.
Contact us through our telephone number +971 433 16 688. Also, you can write to us at contact@connectfreelance.ae to make your queries. Also, if you want to know more about us, check our privacy policy and terms and conditions.
At Thetalentpoint.com there are various companies offering positions to the most qualified professionals. Thus, you can enter the page and register to know each one of them. In addition to this, you can send your resume to contact@thetalentpoint.com and take advantage of this opportunity.